Apartments
Residence includes: carefully restored two-bedroom apartments located directly in the structure, are all air conditioned and equipped with every service, having three different types of appartamentio propose:
Apartment by the sea with a balcony overlooking the beach and located on the third floor.
Side apartment with a large balcony where you can enjoy the sea view, is located on the first and second floors.
Side apartment without a balcony where the lack of balcony earns the interior space, located both the first and second floor.
All two-bedroom apartments at the Residence feature:
Living area with fitted kitchen complete equipment with the availability of the microwave oven.
Bathroom totally renovated with suspended sanitary, shower, hairdryer, toiletries.
sleeping area with beds and mattresses, TV with LED, Sky Vision Gold, telephone, safe.
SECOND FLOOR PLAN
Apartment mountain side without balcony
Apartment mountain side with balcony
THIRD FLOOR PLAN
Apartment sea side with balcony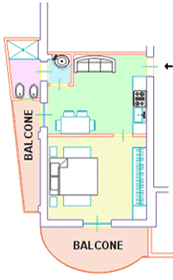 Apartment sea side with balcony
The property offers the opportunity to stay in an apartment in formula RESIDENCEHOTEL way to have the convenience of a familiar and comfortable with the convenience of the daily cleaning of the premises and the availability of meals to be eaten in the dining room or if you want in an apartment for a holiday organized for families with children and more.
Formula Residence comprises:
Rent of the room: One bedroom apartment compound (planigrafie and descriptions of apartments)
Mid-week cleaning (compulsory final cleaning Euro 40,00)
Air conditioning
WI-FI
Parking
Solarium (located on the fourth floor overlooking the sea, available: parasols, sunbeds, deckchairs, Shower, Beach Towel. For a relaxing time at the hotel.)
Bicycles Walking is for larger than for smaller
Internet Point
Formula ResidenceHotel comprises:
In addition to the same features and amenities of the Residence , including the ability to make use of meals , the drinks and daily cleaning .
We are at your disposal to propose this formula assessing your needs and requirements by contacting us by telephone on 0541 950550 for clarifications and an immediate comparison , or via e-mail [email protected] so to have the opportunity to then provide you accurate and detailed quotes and information for a comfortable and relaxing holiday in your Residence Hotel Villa Mare
Beach Service " Beach"
Regarding the beach service we offer a beautiful beach concession , modern and accurate services , located in front of Hotel Residence offers its guests: professionalism, courtesy and availability of well- umbrellas spaced from one another with services maintained and games for children. The kindness and the reception given to their customers is the main base for so long that distinguishes it as a reference for our beach hotel.
We are at your disposal to assess the availability and costs.
Information
The apartment will be available within hours 13:00 on the day of arrival and must be vacated by 10:00 day of departure .
Animal Small pets are welcome
Request Information